Cheap Bus Tickets to
Amsterdam
Best Price
Real-time comparison
Easy Booking
Direct access to over 600 train, bus and flight partners
Customer Satisfaction
More than 20 million users from over 120 countries
Buses to Amsterdam: Overview
Main Bus Stations:
Amsterdam Centraal, Amsterdam Sloterdijk Bus Station
Popular Destinations from the UK:
London, Reading, Manchester, Birmingham.
First Bus:
02:50
Last Bus:
23:55
Bus Ticket From:
£

5

Nearest Coach Station:
Brussels Bus Station
Bus Companies
Flixbus
Buses to Amsterdam
Every hour, buses and coaches arrive in Amsterdam from every major city in Europe, Ouibus come from Paris; while Dusseldorf, Brussels, and Cologne are served by Eurolines Eurolines and national providers. Megabus and National Rail Coaches both run a good direct service between London Victoria and Amsterdam Centraal. The journey time is approximately 12 hours from London; fares include the ferry crossing. Overnight sleeper coaches are also available for social or gap year travellers.

Amsterdam coach station is conveniently sited near the Eastern harbour district. It is a modern facility which gives a charming first impression of the city. From here, visitors can take connection buses to Amsterdam's most popular destinations. However, as bicycles are so popular here, a bit of pedal power may be the best way to see the city.
Many coach operators will let you take your own bike for a small surcharge, but be sure to check this in advance. Alternatively, reasonably good bikes can be hired from dozens of locations all over Amsterdam.
Popular Destinations by Bus
Arriving in Amsterdam
Some people say there are two main reasons for visiting Amsterdam - we think this is a definite understatement; there are many, many more. Although this is a small capital compared to London, Paris or Rome, Amsterdam has plenty to see and entertain visitors. During the late summer, the foremost museums and galleries throw open their doors after dark for spectacular evening events. These are generally free to the public, but some special exhibitions may charge a small entrance fee.

The Dutch are a notoriously friendly people and English is widely spoken here; many restaurants or cafés will be happy to provide an English menu; some menus might be written solely in English, therefore there is no need to worry. When visiting Amsterdam, the savoury bitterballen should certainly be sampled; these are a comforting beefy treat, deep fried in breadcrumbs (vegetarian version available, too).

There are no fewer than 400 museums and galleries here, so it would be impossible to get round them all on a short coach break, but no trip to the Dutch Capital is complete without a trip to the world-famous Rijksmuseum which houses an unrivalled collection of paintings by the foremost of the Dutch masters. The Van Gogh Museum is also a must-see.
Avg. Bus Duration

:
688

Bus arrives in

:
Amsterdam

Buses depart from

:
Berlin

Coach Ticket Price

:

€

24

Distance

:
358 miles

Bus Companies

:
Flixbus, Citybus Express
Cheap Bus Trips to Amsterdam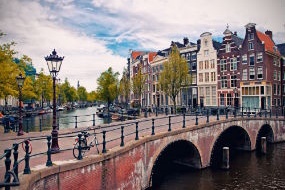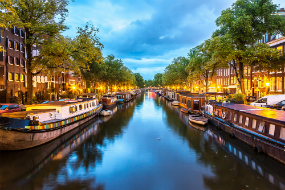 How would you like to travel to Amsterdam ?
---
Important Stations and Airports for this Journey
Can't get Enough of Travelling by Bus?