Travel to
Edinburgh

: Cheap buses, trains and flights
Best Price
Real time comparison
Easy Booking
Direct access to over 450 train, bus and flight partners
Customer Satisfaction
More than 30 million users from over 120 countries
About Edinburgh
Often referred to as the 'Athens of the North' Edinburgh is a heady blend of impressive architecture and landmarks like Edinburgh Castle, St. Giles Cathedral and Holyrood Palace sit alongside green spaces, parks and gardens. The leafy Georgian terraces of the New Town with their upmarket boutiques are worlds away from the cobbled alleys of the Grassmarket with its iconic tenements. Scotland's capital is a city of contrasts where excellent shopping and entertainment facilities and traditional Scots bonhomie go hand in hand.
Quick Guide to Edinburgh
| | | |
| --- | --- | --- |
| | Must Know | Book your transport to Edinburgh early to save money on your fare to the capital of the north! |
| | Must See | Big acts at this year's festival include comedy trio Foil Arm and Hogs, Scotland-loved duo Burnistoun, and one of Foster's nominees from last year James Acaste returns with a new show! |
| | Must Do | Make sure to catch the sights outside of the Edinburgh Fringe epicentre as museums and attractions are particular empty at this time. |
| | Must Eat | Try a Hot Roast Roll at Oink! Located in the Old Town, you'll find tucking into pulled pork, haggis and apple sauce served in freshly made rolls should be the peak of your trip. |
| | Did You Know | At Edinburgh Fringe 2015 there were 50,459 performances of 3,314 shows in 313 venues, making it the largest arts festival in the world! |
Top Experiences in Edinburgh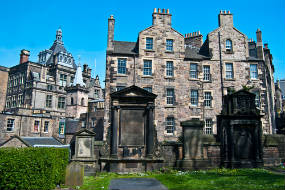 Greyfriars Graveyard
Known to supernatural-fanatics as the world's most ghost infested graveyard. The majority of these spooky tales originate from the middle ages, but if you're looking for something different to do there are plenty of companies that offer tours of this graveyard.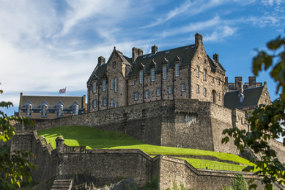 Edinburgh Castle
A prominent feature of the city, Edinburgh Castle is not only home to Scotland's crown jewels, but a vast amount of history. In its 1110 years of existing, we recommend taking the time to check the castle out, and enjoy the views from the top!
Important Stations and Airports for this Journey
Everything you need to know about Edinburgh Airport
Power Outlet

Wifi

Food Service

WC
Everything you need to know about Edinburgh bus station
Power Outlet
Wifi
Food Service
WC
* Information may be outdated (testing value)
How would you like to travel to Edinburgh
---
Travelling to Edinburgh
| | | |
| --- | --- | --- |
| | Flights | Edinburgh Airport offers a number of domestic and international flights and is well connected with public transport. There is a tram service which takes visitors straight into the centre, the Airlink 100 Express Bus which leaves every 10 minutes and is around a 30 minute journey. Taxi's are also available from the airport and cost around £20+. |
| | Train | Waverley Station is the main railway station in Edinburgh, and trains depart from all over the country on a regular basis to Edinburgh. Another major commuter hub is Haymarket Station which offers city connections as well as long distance train services to Glasgow and London. Getting the bus is the easiest way to get to the city centre with many services stopping at the stations. There are taxi services available. |
| | Bus | Edinburgh Bus Station is the main station for local bus interchanges and coach services further abroad within the city. Getting into the centre from the bus station is easy with many local buses serving the station. Additionally, it is served by the St. Andrew Square tram stop on Edinburgh trams, as well as by trains at Waverley Station which is 200 metres away. |
Travelling Around Edinburgh
Local transport includes buses, national rail train services, and the Edinburgh Tram. Lothian Buses and Edinburgh Tram work together under Transport for Edinburgh to provide the public transit in the city. There are two zones here: the City Zone (everything except the airport), and the Airport Zone. Edinburgh Tram tickets can be purchased in advance or from vending machines at the tram stops. Local bus tickets can be purchased in advance, through their app, or from the bus driver on the bus when paying with exact change.
Cycling is very popular as the city is very bicycle friendly. However, as the weather in Scotland can be unpredictable, proper gear is always recommended. There are traffic free bike lanes throughout the city that take advantage of old railway lines, and cyclists can share the bus lanes.
Many people use the local transport but there are car parks scattered about the city as well as on street parking, and the connections to the motorways makes travel by car an easy option within Scotland. There are also taxi's available and walking is another great way to see the city.
Need more tips for your next trip?
We've sent you a confirmation email.
Please click the link inside to complete the process.