Travel to
Paris

: Cheap trains, buses and flights
Best Price
Real time comparison
Easy Booking
Direct access to over 600 train, bus and flight partners
Customer Satisfaction
More than 20 million users from over 120 countries
Transport Price Comparison to Paris
Average prices for travelling to Paris from major European cities by trains, buses or flights.
| FROM LONDON | FROM AMSTERDAM | FROM BARCELONA | FROM BERLIN |
| --- | --- | --- | --- |
| | | | |
| | | | |
| | | | |
*These prices were taken as an average from the last 3 months.
Quick Guide: Traveling to
Paris
Top Attraction:
The Eiffel Tower
&nbsp
Free things to do in Paris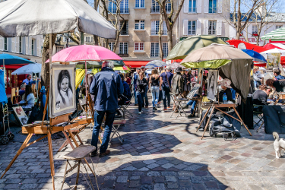 Montmartre
The almost pseudo Parisian village of Montmartre has everything from bars and food to the overgrown cemetery and vintage shops, particularly if you avoid the over crowded Place du Tertre where the majority of people congregate. The view is pretty great from the top, but don't ignore the, arguabley more interesting, nooks and crannies!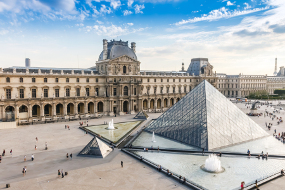 Musée d'Art Moderne de la Ville de Paris
Upon first sight, the facade of this museum is pretty imposing and something you'll probably all recognise. However, the impressive works of art you'll find inside are just as much of a treat with works of art by Delaunays and Fautrier with styles that range from art deco to cubism.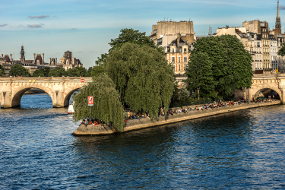 Square du Vert-Galant
For a little taste of the bohemian feel of the Paris of the 1920's then Square du Vert-Galant is the cloest you're gonna get! Its located on the western tip of the Île de la Cité engulfed by water and in the summer you'll find people chilling on the grass, watching the boats go by.
&nbsp
Traveling to Paris; not what you were looking for?
Here are some pages that might be more in line with the information you need:
Important Stations and Airports for this Journey
Paris Place de la Concorde
How would you like to travel to Paris
---
Traveling to Paris
| | | |
| --- | --- | --- |
| | Flights | There are two main airports in Paris for those wishing to travel to Paris by plane: Charles de Gaulle Airport, and Orly airport. Charles de Gaulle Airport is the largest and most popular, with international and domestic flights leaving every few minutes. Charles de Gaulle Airport is situated around 35.6 km from the centre of Paris. It is easy to reach Paris from the airport. Trains and buses leave the airport regularly, and taxis and hire cars are available. |
| | Train | There are several large train stations in the centre of Paris. Both local and national trains arrive with regular services throughout the day and evening. The main station in Paris is the Gare du Nord. From there is it easy to get a train to other areas of Paris, or to take the subway to other areas of the city. Taxis can also be found outside the station, as well as various bus services. |
| | Bus | For international tourists who wish to travel to Paris by bus, they are likely to arrive at the Paris-Gallieni bus station is located, which is located in Bagnolet in the east of Paris. From here, travelers may need to take a connecting bus service to the centre of Paris. There are also several large bus terminals around the city that serve the Paris area. |
Need more tips for your next trip?
We've sent you a confirmation email.
Please click the link inside to complete the process.